Downpipes
Downpipes
This command lets you define downpipes and their accessories.  In some markets, downpipes may also be referred to as downspouts – the process for defining and using them is the same.
When you select this command, the Set-Up > Downpipe dialog box is displayed.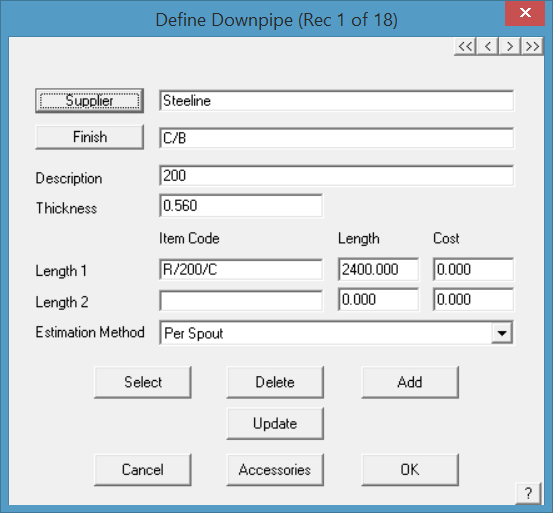 Supplier The supplier of this downpipe.
Finish The finish of this downpipe.
Description The style of this downpipe as either Round or Rectangular as required to identify it.
Thickness The thickness or gauge of the material of this downpipe.
Length You can specify 2 standard lengths for the downpipe pieces as well as the product codes and costs for each length.
Estimation method You can set the take-off as "per spout" or "add total spout length" in order to calculate the number of lengths required.
When you select this command, the Set-Up > Downpipe dialog box is displayed.
Accessories You can specify the product code and cost for all accessory items such as the pop (or dropper), straps, offset, shoe and elbow associated with this downpipe. For the strap, you can specify the spacing between straps so that the number of straps can be estimated. Depending on what you want to supply, you can report or not report any of the accessories – item cost and for straps, the frequency or spacing along the downpipe.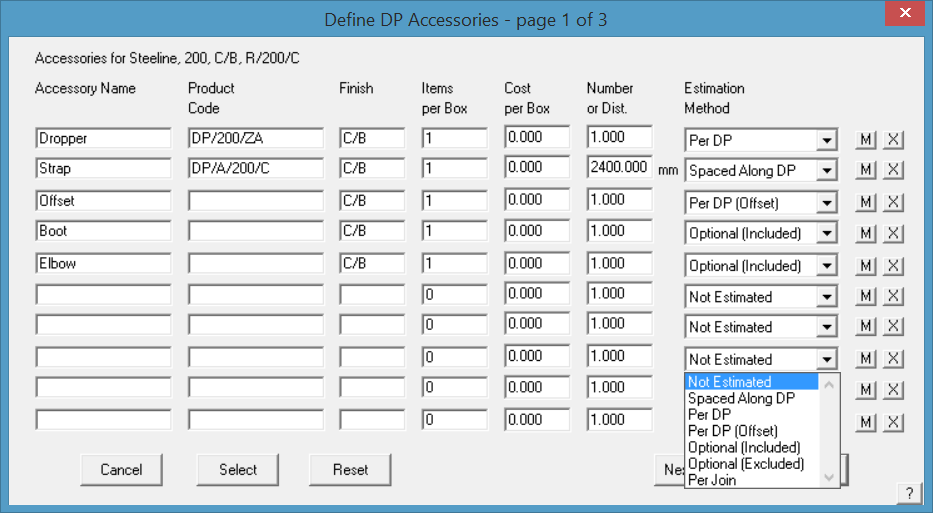 The product code of the accessory is used for ordering, but it is also the key that links the accessory item to a downpipe item in the system. The important thing to get correct here is the 'estimation method'. The correct association between the accessory and the tile is how the software gets your material orders perfect every time.
Spaced Along DP  adds the accessory item at the distance interval set under Number or Distance (for example, DP straps).
Per DP  adds an accessory item per downpipe, for example, a dropper or pop.
Per DP (Offset)  allows you to add an offset from the wall to the eave, and you will be prompted to subtract from DP length (if required) when used.
Optional (included)  adds the item automatically for each DP instance, but may be removed.
Optional (excluded)  provides for it in the list but must be selected by the operator when used.
Per Join  adds the item at a DP joint
Add  This allows you to add a downpipe
Delete  This allows you to delete the selected downpipe.
Select  This allows you to select an existing downpipe.
Update  This allows you to update a selected downpipe.
[OK] Closes the dialog and saves the changes you have made.
[Cancel] Closes the dialog without saving the changes you have made.
The information is saved to the file downpipes_v6.csv and DPaccess.csv.
Material data files such as this are best edited from within AppliCad software via the appropriate dialog box, however as they are in a comma separated text file format (CSV) they may also be edited in a spreadsheet program.